Athletes Who Rock! Stories of Sacrifice, Setbacks and Success in Sports, Music and Life is out on February 22, 2022.

Order from the Cranthope Millner Publishing website here or these options: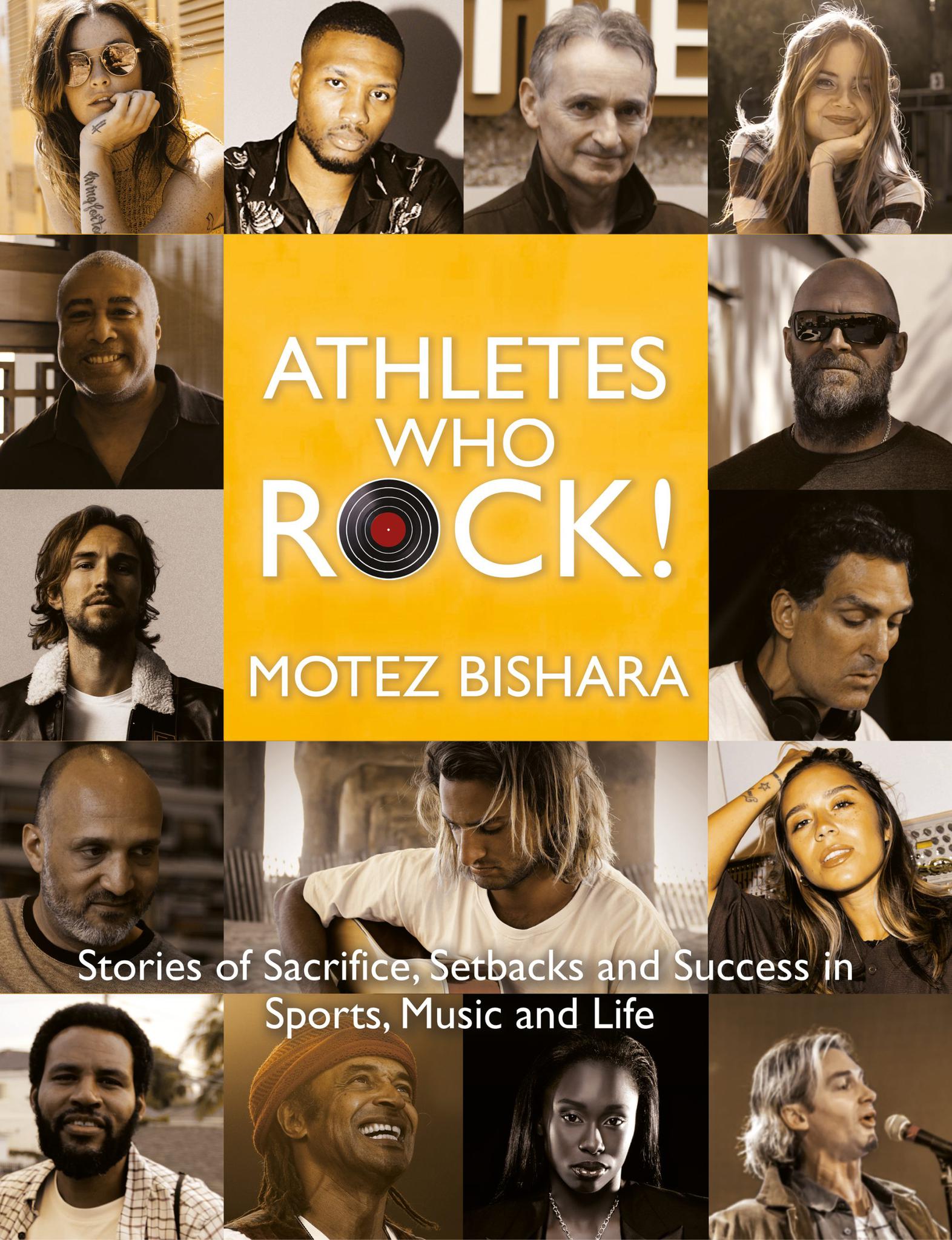 Athletes Who Rock! shares the inspiring backstories of 15 individuals who have achieved the near-impossible: success in the ultra-competitive worlds of pro sports and music. Although their lives are a dream for many, few have understood what it takes to break through in both fields.
Enhanced by dozens of intimate photos, this dynamic collection of in-depth interviews provides accounts from star talents Damian Lillard, Bernie Williams, Chelcee Grimes, Yannick Noah, Rony Seikaly, Pat Nevin, Ray Barbee, Lyndsay Perry, Kyle Turley, Bronson Arroyo, Mark Butcher, Pat Burgener, Essence Carson, Kevin Walker and Daniela Hantuchova.
These remarkable athlete-musicians have lived out every kid's fantasy. They have played sold out stadiums, written hit records, collected awards and DJed at the most prestigious nightclubs - all while excelling in the world's biggest sporting competitions.
But victory has not come easy. For every tale of playing the Royal Albert Hall, hitting a World Series home run or winning an Olympic gold there is another that involves overcoming one of life's big challenges. The hurdles they have crossed are often hard to believe. Now their stories are ready to be told.
--
Check out the review from Kirkus Reviews below:
Journalist and author Bishara seeks out the secret skillset behind successful athletes/musicians in this collection of interviews.
It's hard to make it as a professional musician, and it's perhaps even more difficult to make it as a professional athlete. Hardest of all is managing to do both. In this book, Bishara, who's written for CNN, ESPN, and the Guardian, profiles 15 athletes/musicians who've achieved success in both arenas. These aren't just people who've parlayed their superstardom into making a few disposable records, either, à la Shaquille O'Neal or Terry Bradshaw. Bishara is specifically interested in those who've demonstrated unquestionable success in music, such as winning awards or selling out prestigious venues. His list includes well-known figures, such as Bernie Williams, the Yankees' All-Star center fielder and Grammy-nominated guitarist; Damian Lillard, the rare NBA player whose hip-hop efforts have been met with critical plaudits; and Yannick Noah, the tennis legend who enjoyed a second career as a pop star in his native France. There are athletes readers may not have heard of, as well, such as an English cricketer-turned–rock musician and a San Jose skateboarder who switched to jazz guitar. Bishara is eager to learn the secrets behind these remarkable career transitions, and he soon realizes a lot of the things that help make a successful athlete help in creating music. Flow, improvisation, grit, poise: All these things contribute to a winning performance, be it on the ski slope, tennis court, baseball diamond, or concert stage.
The book is well constructed, with many full-color photos by the author and others and a handsome layout. Bishara is a competent interviewer, though his bubbly writing skills are on better display during the profiles that proceed each interview: "For the past seven years this has been [Swedish footballer Kevin Walker's] life, a situation he compares to living like Batman and his alter ego Bruce Wayne. One day he performs as a veteran leader in Sweden's top tier of football, and the next as one of the county's most endearing singer-songwriters." The most engaging stories are the lesser-known ones, such as the case of Kyle Turley, an NFL lineman–turned–country musician who opens up about the mental health issues he's experienced as a result of his many career concussions. Others have insights into specific elements of success; as Bronson Arroyo, a World Series–winning pitcher–turned-guitarist, puts it, it's all about getting in the zone: "It's where you're so comfortable in a situation that would normally bother someone else but isn't bothering you at all. You're just having a pleasant time inside of what seems like it could be a very nerve-racking environment." Despite the author's insistence otherwise, several of the musicians profiled, such as Arroyo or the New York Liberty's Essence Carson, are trading mostly on their athletic fame and haven't accomplished much in music. Even so, the book succeeds as an investigation of a truly impressive phenomenon.
A varied but reliably intriguing book of conversations on success in the arts and in competition.
--
Check out this detailed review by Kev Milsom of Joyzine:
As a lifelong devotee of cricket, I distinctly recall watching a recent TV programme about the former English batsman, Mark Butcher. Expecting an fascinating hour listening to Mark enthusing solely about his county and international cricket career, I was amazed to watch as he picked up a guitar and proceeded to both play and sing Dylan's classic, 'The Times They Are A-Changin' with high, professional expertise. I'm not quite sure if I was more shocked or impressed, but it certainly got me thinking about my own distant youth, where playing sports and creating music were my two most important goals; along with realising (in hindsight) that these were the two moments in life when I became most focused and relaxed. I definitely wish that I had practised a heck of a lot more, so I could have hopefully kept up with Mark Butcher's considerable skills as both a batsman and guitarist. Therefore, when Motez Bishara's new book, Athletes Who Rock appeared recently on the Joyzine review list, the magnetic pull was far too strong for me to resist.
Across the two hundred and forty-one pages, the author reveals his long standing fascination for those talented individuals who can excel both within a sporting environment and also achieve musical prowess. To this end, precious time has been spent engaging in a three year study of fifteen people who fit seamlessly into this double sporting/musician mould.
Motez begins the book with an exploration of the psychological 'flow state' that strongly occurs within those who play sports and music to the highest levels. The late, Hungarian-American psychologist, Mihaly Csikszentmihalyi (1934 – 2021) identified this flow as, '(A state of) being involved in an activity for its own sake. The ego falls away. Time flies. Every action, movement and thought follows inevitably from the previous one, like playing jazz. Your whole being is involved and you're using your skills to the utmost'. Csikszentmihalyi identified eight separate 'elements of enjoyment' whereby this flow exists. In the vast majority of these states, the feelings experienced by sports professionals and musicians are identical. It is only different in experiences where sports people tend to focus upon a clear sense of winning/losing by definitive results, whereas musicians' feelings concerning success/failure are much more subjective and personal to them.
The series of interviews begins with former footballer, Pat Nevin. Nevin's sporting career spanned twenty years, covering six different English and Scottish teams. Most of his notoriety came from a spell with Chelsea, covering five years and one hundred and ninety-three appearances, plus twenty-eight international caps for Scotland. Inside the opening paragraph, the author highlights the pull that music had on Nevin, even at the height of his football career. At Chelsea, a pending pre-season match clashed with his plans to watch the Cocteau Twins performing at the Royal Festival Hall. At a contract meeting, Nevin stipulated one necessity for his continued involvement with the London club. At halftime, he could leave the forthcoming pre-season game and get over to the concert. Thus, at half-time – and much to his manager's annoyance – Nevin simply placed his clothing over his kit and raced to see one of his favourite bands playing live. Prior to this, as a teenager, a team-mate had bet Nevin that he would score more goals than him in a match. They agreed that the loser would buy the winner an album of their choice. Suitably inspired, Nevin easily won and scored freely that day. In his words, 'It was a Genesis double album. It was just at that crossover period between punk and prog, so that's what he had to buy me'. With music clearly running through his veins, it's little wonder that, since leaving football, Nevin has combined a hectic working life with a busy career as a DJ. He admits that it's not the same as playing nearly eight hundred and fifty games in his professional career, but yet there is certainly adrenaline within his DJ role.
Returning to where we came in, one chapter is devoted to Mark Butcher, whose national and international cricket career spanned from 1992 to 2009. We learn that, like Pat Nevin, music had always been an important foundation in life for Butcher, who received his first guitar at age thirteen. After buying a Jimi Hendrix cassette tape for £1 at a motorway service station, his mind was blown away by Hendrix. Soon, the ex-cricketer vividly recalls watching Queen and Clapton at Live Aid in 1985 and again being 'blown away'. Now utterly intent on emulating the oncredible sounds he had heard, Butcher saved up for a Telecaster knock off guitar. Recounting a remarkable, yet bittersweet and uproarious, life, Butcher opens his heart to the author and leaves little to the reader's imagination. A revealing aspect comes when he is asked about the links between both his sporting and musical worlds and what uniquely joins them.
'Rhythm. When I was playing (cricket), if I was in a good place, I would have a song in my head – and that would be the only thing in my head. Because thought is the enemy of being able to play – or at least it was for me. Time and rhythm are both things that apply in equal measures in both pursuits'.
Within this book lies a veritable ton of information and it would have been easy for Bishara to create a long series of factual information that didn't gel/scan together fluently. However, the author has clearly done his research and, luckily for the reader, has adept skills at conveying the formidable depths of each athlete/musician with an extremely readable and fascinating form. Each question asked of the fifteen chosen people is designed to open up more information to the reader and allow us personal insights into their lives. In return, it's clear that all of the athletes/musicians respected/trusted the author, allowing a sense of relaxing communication, without holding anything back from us.
For anyone who finds utter joy/release within both sporting and musical arenas, this book is a must-read.