Updates
Now available for pre-order: When the Sheikh met the King: The complete oral history of Michael Jackson's bizarre, secretive year in Bahrain through this Amazon link (release date January 11, 2022).
Read a riveting excerpt from the book published in The Guardian here.
Listen to an interview on Irish Radio about When the Sheikh Met the King here.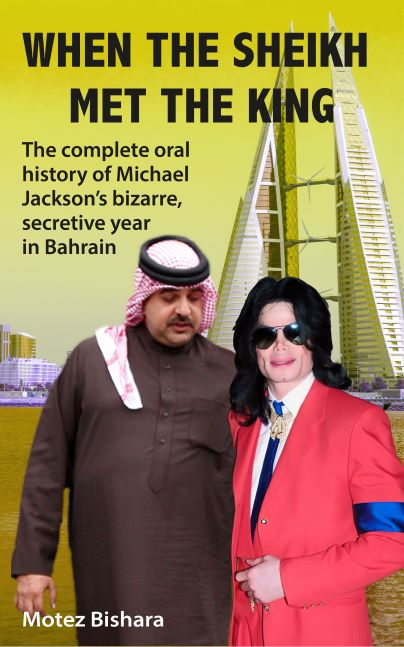 About
Motez spent his formative years in New York City obsessing about the Yankees and Giants. He subsequently lived in Kuwait, Boston and New Orleans before settling in London during the heyday of Cool Britannia. Motez earned an MBA from Tulane University and was a new media / tech industry investor before turning his focus to journalism. He also holds a BA in Mathematics and Computer Science from Boston University and an MA in International Journalism from City University in London. A front-row Arsenal season ticket holder, Motez can sometimes be spotted chatting with Martin Odegaard during corners.
Motez released his first book Beating the NBA: Tales From a Frugal Fan in 2013, and is set to release his second book, Athletes Who Rock! Achieving Greatness in Music and Sports over One Lifetime (Cranthorpe Millner Publishers, 2022 -- the top photo shows Motez (left) interviewing Swiss Olympian snowboarder Pat Burgener for the book in Manhattan Beach, California).
Athletes Who Rock! shares the inspiring backstories of rare individuals who have achieved the near-impossible: success in the ultra-competitive worlds of pro sports and music. This collection of remarkable interviews features Damian Lillard, Bernie Williams, Yannick Noah, Rony Seikaly, Chelcee Grimes and ten other notable athlete-musicians.

Motez is also an academic embarking on a doctorate in sports sociology at the University of Leicester. He served as a visiting professor at the Gulf University for Science and Technology, teaching news writing in spring 2018.

-
Awards and Nominations

2021 Tulane University, International Award for Exceptional Achievement
2020 The Best American Sports Writing, Notable Sports Writing inclusion for We All Have Hoop Dreams (CNN.com)

2019 The Best American Sports Writing, Notable Sports Writing inclusion for From humble beginnings, Gay Bowl attracts NFL sponsors and touches lives (CNN.com)

2019 Association Internationale de la Presse Sportive (AIPS) nomination, Writing Best Colour for From humble beginnings, Gay Bowl attracts NFL sponsors and touches lives (CNN.com)

2018 Association Internationale de la Presse Sportive (AIPS) nomination, Writing Best Column for NFL players learning how not to go broke -- with the help of MBAs (CNN.com)
2017 Drum Online Media Award Winner, Best Freelance Writer

2017 Goalden Times WorldBall list of best football writing of 2017 honorary mention for Son of the King (The Blizzard).

2016 Drum Online Media Award runner-up / commendation for Best Freelance Writer

2015 Sports Media Pearl Award nomination for Wimbledon: Below the top 10, a life of budget dwellings and last-minute deals. (CNN.com)